Like daylight saving time, New Years Eve, dentist appointments, and oil changes, there are some things that you can count on that happen in our lives every year. But let's add one more thing to this list: the arguments for taxing credit unions by bankers.
It's the political messaging version of your loud and maybe drunk aunt coming to your house to catch up with you and make you feel bad about the choices you've made in your life. But you stand firm in your choices and defend them politely without showing too much emotion. And then she left until next year. You simmer for a while and complain to your spouse, then move on.
It sounds like the lifecycle of the pro / con messaging battle between banks and credit unions. This argument has been going on for years without any change to the tax status of credit unions. You can argue that it is only a matter of time before the tax status is removed. You can also argue that orange juice with no pulp tastes better than that disgusting pulp-filled version that only, I guess, psychopaths drink. This argument will get you about as far as this back and forth message from both sides.
Tracing this tit-for-tat, or tit-for-tax, you can find letters from the American Bankers Association up to November 18, 2004. I'm sure there are more, but this is as far back as their site goes. for this particular topic.
The letter called into question the capital of the credit union and the rules governing the early remedial action to limit exposure to the equity insurance fund.
"By moving away from the concept of 'member owned' in favor of non-member capital contributions, the very essence of the ownership structure of a credit union is called into question. "
It was a letter from Keith Leggett, senior economist at the ABA, to NCUA board secretary, Mary Rupp.
There is a document on the ABA website from July 11, 2002 titled "The Changing Face of Credit Unions". But since I don't have any ABA credentials or access to this, I don't know what that says.
Fast forward to July 27, 2007 with letter from ABA to then-US Treasury Secretary Henry Paulson, Jr. In this letter, the ABA decided to work on a new talking point and / or political label to see if it would stick – the "credit unions of new generation ".
The context of the letter was to show the ABA's support for Secretary Paulson's efforts to identify the wasteful tax preferences.
The ABA turned on its political machine and produced this:
"Many traditional credit unions continue to stick to this mission. However, a new generation of credit unions has grown rapidly, taking advantage of their preferential tax status and serving only those segments of the community they choose to serve. These credit unions are changing their charters to include millions of people within their scope of membership. In fact, there are 123 credit unions today with over $ 1 billion in assets, making them over 92% of banks. These next-generation credit unions also offer a wide range of complex financial products – including business loans, trusts and asset management services, and investment products – making them virtually indistinguishable. taxpayer banks. "
OK, let's slow down here with ABA banksplaining.
Interestingly, the "new breed" language was not found in any of the ABA's letters to lawmakers. Maybe that was too confusing, because most probably don't even fully understand cooperative principles? Or maybe lawmakers read "new breed" and thought the letter should have been sent to the Department of Agriculture? Whatever the reason, the ABA seemed to be moving away quickly.
Ultimately, the ABA tried to get the message across in language lawmakers could understand, calling the credit union tax exemption "the biggest corporate tax loophole" and that the lost tax revenue could instead be spent. to "vital research on heart, lung and blood disease". . "
The only thread running through ABA's message has been its narrow interpretation of the credit union industry's mission to serve consumers of "small means". He wants to ensure that credit unions stay relatively close to the size they were when credit unions started, and seems to want lawmakers to read the credit union charter as the originals, as many people do. do with the Constitution of the United States. What was said and signified on the first day cannot be changed, amended or changed.
In the past three years alone, the ABA has stepped up its alarmist messages to lawmakers with at least eight specific letters combining the issue of tax exemption with the issue of acquiring credit unions / banks. According to a June 27, 2019 letter to then NCUA President Rodney Hood to celebrate the 85th anniversary of the Federal Credit Union Act, the ABA took this opportunity to reveal research it had funded in which she claimed to have evidence that credit unions may be a "contributing factor to deepening economic inequalities."
He said: "The report details how credit unions are increasingly using their tax advantage and regulatory supports to expand their membership to high-income clients, make high-risk loans without sufficient capital, and even buy out banks. community taxpayers. "
By the way, the research was done by someone who owns a large bank-friendly think tank in Washington DC and who has made presentations for the Federalist Society (a very conservative organization in DC).
Oh, and let's not forget the phantom site explorecreditunions.com, a site that was oddly set up to look like a credit union, but was a site dedicated to highlighting the misdeeds of credit unions. At CU Times, we spent about a year trying to find out who ran it and even web geeks took a peek to see what they could find. They showed us that all owner identification codes have been removed and even the code inside the pictures has been removed. We had suspicions that the ABA was behind it all, but it wasn't until one of our reporters finally got confirmation from sources that it was the ABA running it, along with the funding for it. a right-wing political action committee, which the ABA confessed to in its own way and linked the site to the ABA website.
Where are the political winds going? What messages are reaching lawmakers? Fortunately for credit unions, there doesn't seem to be much political interest in the issues the ABA continues to raise. Most likely because the space for credit unions is still so small compared to the rest of the financial sector.
The ABA's focus, for now, appears to be on the dangers to our country if credit unions continue to acquire banks, arguing that these acquisitions will take millions off our tax base.
The questions I ask myself are, what will be the message that will remain? Or is it important? The ABA is playing the long game so that one day politicians will listen. Will that day ever come? Either way, the ABA will continue to try to find the right words.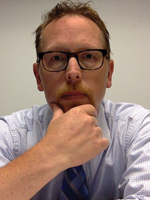 Michael Ogden Editor-in-Chief [email protected]